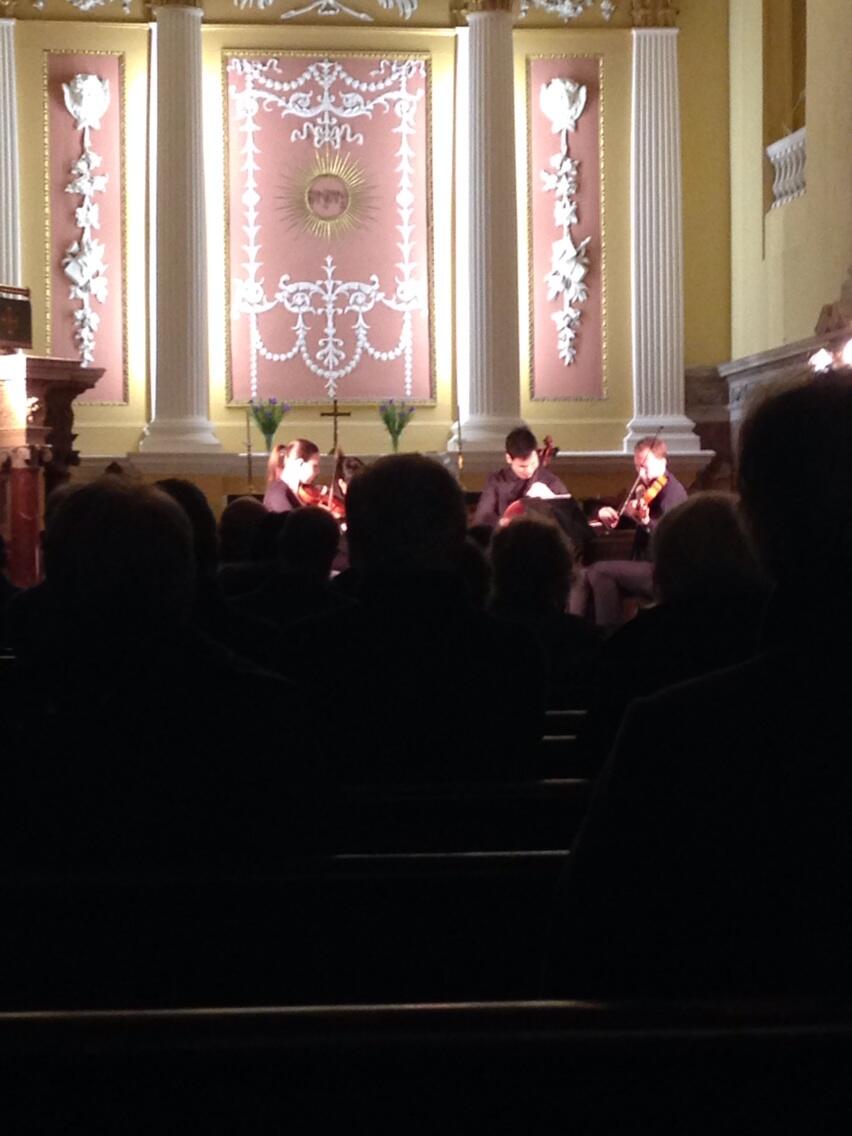 Effective lighting for Attacca at Christchurch
The
Attacca Quartet
are on an Irish tour at the moment and I enjoyed hearing them last night at Christchurch Cathedral Waterford on the second evening of a six date tour. You can read a report of the opening concert on the Irish Times blog
here
. The playing was very fine indeed and they were an attractive looking group on the dramatically lit platform in the elegant backdrop of the 18th century interior.
Christ Church Cathedral rocked tonight with a wonderful Attacca Quartet. World class young musicians who talked to their audience
— LIAM MURPHY (@liammunster) February 28, 2014
Unfortunately I got caught by the early start time and missed the opening work by Adams. I think early start times and tea time / afternoon recitals are a great idea particularly on weekends but they do need to be flagged more actively particularly when all other times in the tour are at the more conventional 8pm.
I loved the addition of a spoken element to the proceedings and it was refreshing to hear sound of well modulated accents from the other side of the Atlantic. There were subsantial programme notes from Liam Cagney. Here is what he has to say about the 4th movement of 'Intimate Letters'. Janacek's passionate paean to a beloved younger woman.
'The final movement, gliding on erotic impulse, expresses the composer's fear that he might 'bind your feet like a pretty little lamb' ;though the finale eventually ends triumphantly' Judge for youself. Here is a clip of the Attacca Quartet playing the finale of their 'Poetic Licence' programme
The Attacca Quartet are at the Triskel Arts Centre in Cork tonight (Note at 8pm) and Wexford tomorrow afternoon. Tour locations and
dates here
Venue Notes
:
I loved the subdued lighting in the body of the church. It added much to the experience. The accoustic of the 18th century stone building suited the dimensions of an unamplified chamber ensemble and the string sonority was rich and warm. The setting of the vocal microphone sounded off. The vocal clarity was not as sharp as it might be. I was conscious of this also at a recent talk here.