Thanks to guest blogger, John Hartery for this dispatch from California.
By guest blogger John Hartery
You know how it is? You've perspired in 96 degree below in Furnace Creek in Death Valley, California and when you emerge you'd like a spot of opera. Well this is America anything is possible.
The Amargosa Opera House and Hotel offers accommodation, opera / theatre on weekend nights and a fine café all in a unique venue.
The opera origins go back to Marta Becket who delivered on her vision of an operatic and arts venue close to the one of the warmest spots on Earth.
'
Here's what Wikipedia has to say about the place
Marta Becket rented the recreation hall in 1967, when it was known as Corkhill Hall; she began repairs, created the sets, and painted murals on the adobe walls.[2][6] She renamed it the Amargosa, the original name of the former mining town.[7] In 1970, journalists from National Geographic discovered Becket doing a performance at the Amargosa Opera House without an audience. Their profile and another in Life led to an international interest in Becket and her theater. She began performing to visitors from around the world,[6] including such notables as
Ray Bradbury
[7]
and
Red Skelton
.[8]
In 1974, Becket completed her murals[6] and established the nonprofit Amargosa Opera House, Inc. to continue preservation of the property.[2] Through the
Trust for Public Land
, the nonprofit bought the town of Death Valley Junction, which was listed in the National "
Register of Historic Places on December 10, 1981.[9] In 1983, the Opera House bought 120 theater seats from the Boulder City Theater in
Boulder City, Nevada
to replace the worn garden chairs[9] and the official National Register of Historic Places marker for Death Valley Junction was placed.[2
Prologue
The hotel is really a motel. It's in the American motel style with rooms having individual access to the exterior and interior.. There's no restaurant. Instead you can drive 7 miles across the state border into Nevada to a dive bar with the novel name of, eh, The Stateline Bar. Across the road from the bar there's a casino ready to mop up your spare change.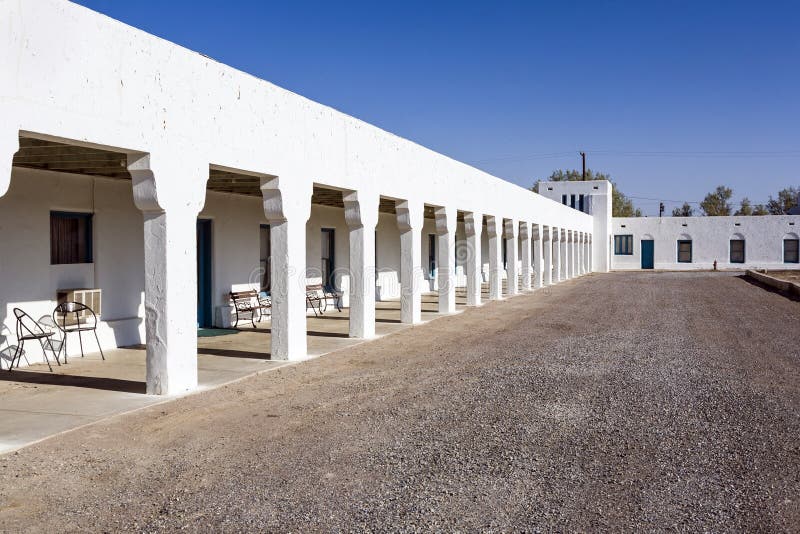 The Amaragosa Hotel offers basic standards but good value given the epic location. Breakfast is available in an adjacent cafe with a cheerful host and freshly made biscuits, bacon and eggs.
Oh and there's something else. Supposedly the place is
haunted
with various characters from the past turning up in the middle of the night. Of course that's all nonsense. Only there was a knock on my window in the middle of the night that awoke me. But there was with nobody outside when I looked. That's my story..........