By John Hartery
It was noted
before
in this blog that history talks bring crowds and it was proven again at Dunhill Multi-Education Centre, no mean achievement on a dark and wintry January evening. Dunhill is an example of a community that's vibrant with a large range of local education and entrepreneurial activities amongst other initiatives.
The lectures come under the banner of The Julian Walton Winter Lecture Series and is now in its 14th Year. Walton is of course the doyen of historians in the region with an impressive track record of broadcasting and writing on historical topics many with a local flavour.
The Dunhill schedule of talks run on a weekly basis on Thursday nights with a fiver admission charge and a cuppa and chat afterwards. Topics tend to have a local bias but placed the context of wider history.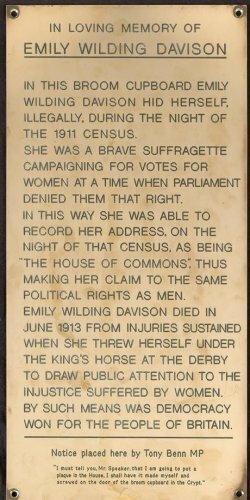 Tony Benn's memorial to Emily Davison
Last week's talk by Niamh Crowley had a full house for 'Women, The Vote and Waterford'. it was quite a wide-ranging talk tracing the Suffragette movement in the UK and USA to local Waterford women who helped smash the glass ceiling. Archive footage and pictures illustrated the path taken to secure votes for all women (and some men) finally in the late 1920s. Ireland in fact in the vanguard in granting the franchise to everybody.
The Epsom Derby event and Emily Davison was noted and an interesting clip of what happened
.
Davison was also famous for hiding out in the House of Commons to feature there in the census. An occasion finally acknowledged there by a plaque placed by Tony Benn an act subsequently chronicled by Reg Meuross
Many women used the census of 1911 to voice their views on no votes for women. Crowley illustrated the census returns of
a trio of Waterford
women active in pursuit of the vote; Lily Poole, Dr Mary Strangman and Rosamund Jacobson.
There's plenty of talks coming up in the Dunhill lecture series and something for all tastes