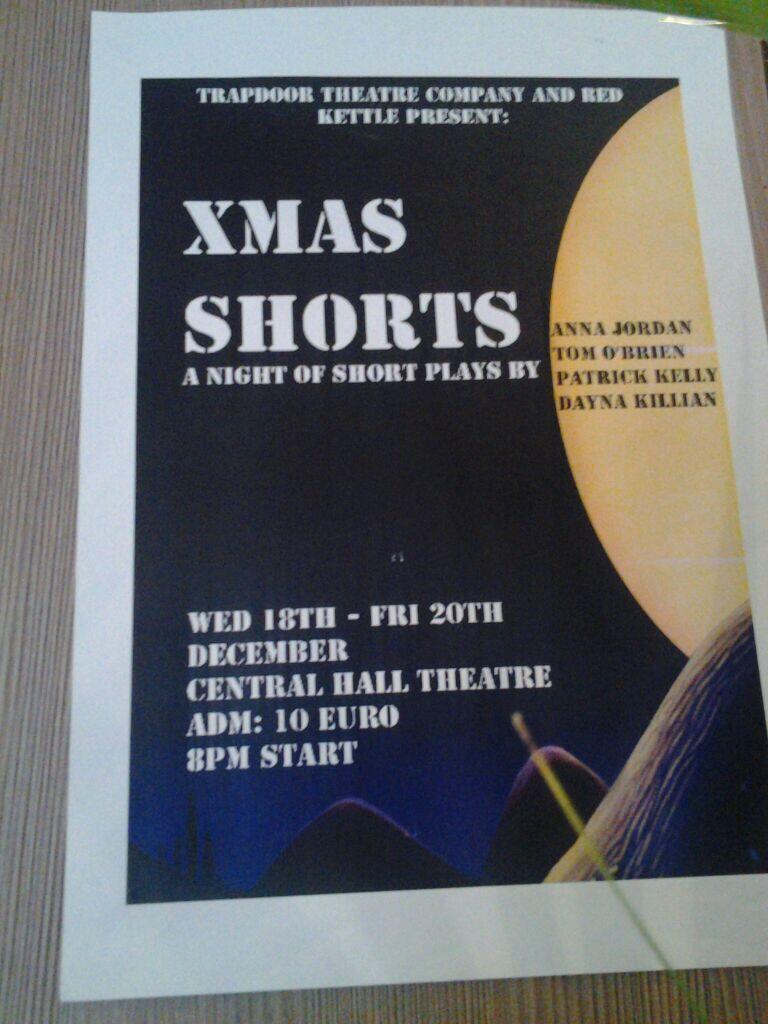 Just in from an interesting and entertaining evening of new theatrical writing . Titled Xmas Shorts,
Trapdoor Theatre Company
in association with
Red Kettle TC
presented five short plays by writers,
Anna Jordan, Tom O Brien, Patrick Kelly
and
Dayna Killian.
at Central Hall Waterford. There was a relaxed collegial atmosphere in the small theatre with an audience of local thespians and friends in. Set design was simple but effective and a different projected image introduced prefaced each piece and acted as a backdrop for several. I particularly liked the impressionist pub secene image for the
Brendan Behan Standup,
in which
Damien
McDonnell
brought the curmudgeonly spirit of the playwright to life on stage through a text by Tom O Brien. The device of a penitential confessional scene was used to good effect here and also in
Dangers of
Ignorance
.
Brian Coady
had the audience in stitches in this comedy monologue by Anna Jordan. The evening opened and closed with an ensemble piece.
Emma
was a dark Medea like tale featuring a real life mother and daughter. Isobel and
Dayna Killian
in the cast and the finale featured a set of siblings in contemplative mood as they packed up their childhood home. Making up the set was a two hander ghost story Marianne There was a resonating plot device with these two dramas also in the dramatic placing of a watch for characters beyond the grave .
With revivals and classics being the staple fare of the big professional companies, new writing has become the preserve of smaller companies and the am-dram scene and it was great to hear so much good writing delivered in a Waterford accent.
Quibbles
. It is hard to read programme notes that are both in CAPITALS and in
BOLD.
I couldn't find any information on the event on line either on the Red Kettle Theatre Company website or Trapdoors Blogspot. Surely the event merited a paragraph or two on the company website.
Xmas Shorts continues nightly at 8pm at the Central Hall, The Quay, Waterford
Emma Written and directed by Dayna Killian Cast Ben Quinlan, Grainne Kavanagh Isabel Killian, Margaret Ryan and Dayna
Marianne by Patrick Kelly Director Clare Smith Cast Conor Halpin Jr Garreth Drohan
Dangers of Ignorance by Anna Jordan director Shauna Farrell starring Brian Coady
Brendan Behan Standup by Tom O Brien Director Robert Doherty Starring Damien McDonnell
Carpe Diem by Anna Jordan director Shauna Farrell Cast Kieran Doyle, Anita O Keeffe, Dean Sullicvan, Ciara Dower, and Jacqui Kelleher