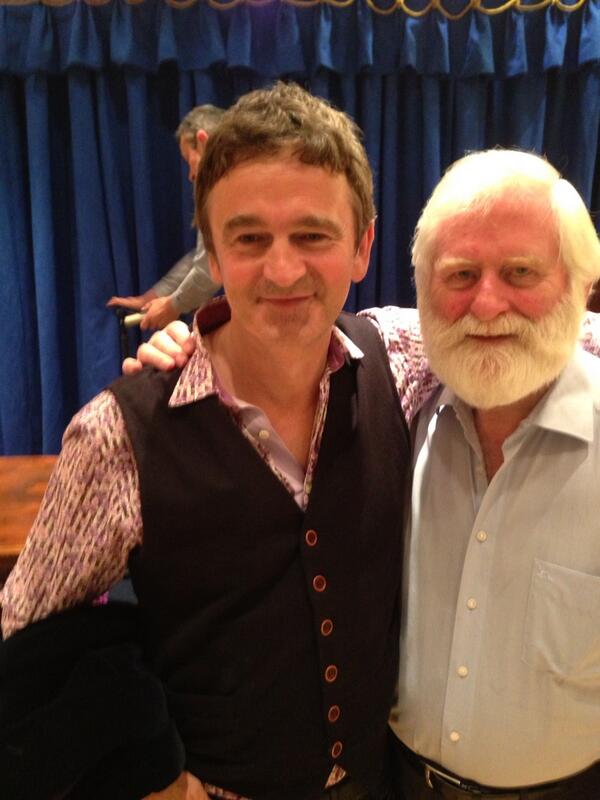 Eamon Keane and John Sheahan in Listowel
It seemed an unlikely Dublin Kerry alliance. But
John Sheahan and Eamonn Keane
proved to be a winning team that drew a packed house to the ballroom of the
ListowelArms Hotel
for an evening described as a kaleidoscope of music, song and poetry during the annual
Writer's Week
I can't imagine coming to Listowel during the annual literary shindig and not having the pleasure of running across John Sheahan. With his distinctive white beard, the former Dubliner is easy to pick out among the
lobby literati
but this is the first time I have seen him upgraded to a main event slot. I am intrigued by Eamonn Keane since I saw him follow a TV chat show interview with a virtuoso turn on piano. The ex Newstalk broadcaster has quite a varied portfolio of activities. He has a regular counselling slot on
Waterford Local Radio
and a recent work for a TV composition project was well received . There are not too many gigs listed on his website schedule but those few are in prestigious venues and usually sell out.
"Sounds of stray music rescued from a dream' from pair of poets raconteurs and musicians extraordinaire ... http://t.co/7S3iExIRWs
— Fidleir (@fidleir) May 30, 2014
There was an almost palpable warmth in the air both in the anticipation among the audience and the rapport between the duo. Keane has impeccable local connections, Sheahan is an annual migrant and the evening had the relaxed informality of a soirée 'among friends', a tone epitomised in the title of the first fiddle tune. Words were paramount whether in Sheahan's poems of tribute to his late colleagues, Keanes song lyrics or the humorous stories of reminiscence, sometimes poignant but never maudlin. Both gentlemen are excellent raconteurs. There are elements of the baroque and the boulevardier in Sheahan's crisp fiddle style. Keane's first improvisation had shades of Keith Jarrett and the larky 'trip round the piano' masked an impressive technique. They were great company. It was a privilege to be there.
John Sheahan reads his work Eamon B Keane
Keane's final song was
Hang the Moon.
In the lyrics, the theme of consolation after death resonated with
Bryan Borrough's one man show Beowolf
seen earlier in the evening at
St John's Theatre
. There were no props just good lighting and a dialogue based on a father's theatrical storytelling of Beowulf to explain impending death and offer consolation to his son . Given my antipathy to one man shows, I sat near the aisle thinking I might nip out early so I wouldn't exhaust my attention span before the Keane Sheahan combo .-- suffice to say, I stayed 'til the end.
Tune Among Friends
Poem Echoes of the Forest
Piano Improv She Moves thro the Fair/ Somewhere over the rainbow.
Song The Land of the White Cloud
Walking with Angels dedicated to Sr Eugene
Tin whiste poem in memory of Luke
]3 Jigs inc Ms Zanussi after Iruish Washerwoman
Farewell to H. Norwegian farewell