There is nothing like being there. No- but enjoying live music and drama in your living room is pretty damn good. You can curl up on your sofa in your pyjamas, and no one is going to poke you in the ribs if you snooze during the solo arias. For the cost of a cinema ticket, you can catch a new opera production every other week at my local Odeon multiplex, walking distance from my base in Waterford. There is something thrilling about enjoying the live event at the same time as patrons sitting in the parterre of the Met or Convent Garden. I admit it -I am hooked by the online experience. Here are some of the highlights of the last ten days.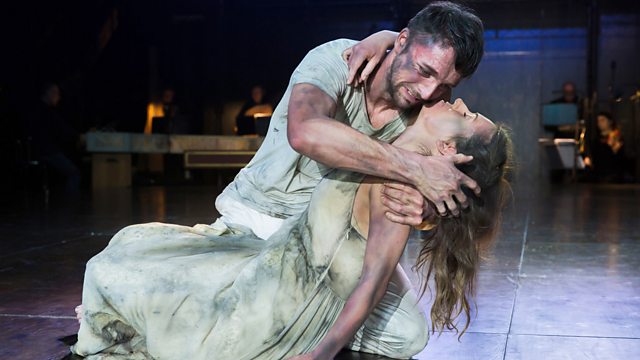 London Orfeo at the Roundhouse
This co production between ROH and Roundhouse, London was broadcast live on January 29th . A thrilling , visceral production with terrific performances and rich new translation by Don Paterson . Available to view for a while longer.
Watch it here
on BBC Arts.
A smartstick plugged into your tv makes it easier to watch on a larger screen than a laptop. The signal failed intermittently but on the whole, it was a good experience.


T
London Andre Chenier at the Royal Opera House
Telegraph review here
For €12.50 you got as good a view of the hot ticket, tenor Jonas Kaufmann as you would if you were in the stalls of Covent Garden and if you pine for the crush bar experience, Phil Grimes pub next door has prosecco on tap.
Dublin Friday Concert Live on Lyric Concert RTE Lyric FM
Friday's concert (Feb 6th) featured American violinist, Kurt Nikkannen in Korngold's Violin Concerto and a Schubert Symphony. The NSO sounded in fine form, the soloist shimmered in the lush Korngold score. Conductor Patrick Ringborg told a charming anecdote as a prelude to a Mahler piece, I do miss the scripted interval piece though. The current interval filler features an informal chat with two aficionados chatting at the bar. It doesn't make for good radio. Listen back here
http://www.rte.ie/lyricfm/the-lyric-concert-with-paul-herriott/
NY Met Live on radio and on screen. Tales of Hoffmann
Most Saturday nights, you can tune in to RTELyric FM amongst others to hear a live broadcast from the Metropolitan Opera House . Last week it was Tales of Hoffmann. I went along to see the live broadcast the Odeon Waterford This was feast for the eye and ear and great fun. You can read the
NYT review here
.
I am not a fan of the interval chats with the performers. It spoils the illusion when the smouldering baddie turns out to be a genial pussycat, However, Deborah Voigt with a touch of flirtation in her quizzing did a terrific job and almost convinced me. We were just a little star struck when she replied to our tweet.
@fidleir @MetOpera Hello IRELAND!
— Deborah Voigt (@debvoigt) January 31, 2015
Munich
:
Lucia di Lammermoor: Staatsoper:
.
I had more than a passing interest in this production. In January, I had climbed in the Souffleur's box on a backstage tour and had a preview of the set before opening night. The run has been sold out for months. I interviewed one of the cast, Dean Power and interview is filed with the Irish Examiner. The most talked about production of the current season at Staatsoper had a fifties American makeover. The singing was superb from Diana Damrau and Pavol Breslik. Dean Power was excellent as Noramnno . Bachtrack review here
http://bachtrack.com/kritik-lucia-di-lammermoor-petrenko-damrau-staatsoper-muenchen-februar-2015
Bravo @bay_staatsoper #BSOLucia Fantastic to be watching from a sofa in Ireland http://t.co/YUx31Wa5OK
— Fidleir (@fidleir) February 8, 2015
The interval feature put the spotlight on the glass harmonica
Next live streaming features more Donizetti: L'Elisir d amore 21st April https://www.staatsoper.de/en/staatsopertv.html
Los Angelos
Dean Friedman live @Kulak's Woodshed
Finally if you are a fan of Dean Friedman you can watch his show at a small club in California. Friedman played at Garter Lane last year and I regretted not being free to hear his whole set. Through the wonders of modern technology, I can at least hear what I missed.